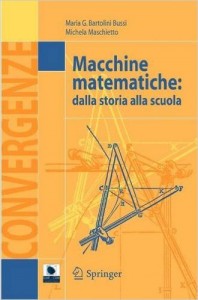 October's site of the month: The Laboratory of Mathematical Instruments
October's book of the month: Bartolini Bussi, Maria G., Maschietto, Michela (2006). Macchine Matematiche. Springer
Japanese Translation: Kyokusen no jiten : seishitsu rekishi sakuzuhoÌ, Tankoban Hardcover
A mathematics teacher coming to Modena, Italy, might enjoy a visit to the Laboratory of Mathematical Instruments at the University of Modena and Reggio Emilia (UNIMORE).
The Laboratory is run by Michela Maschietto and Maria G. Bartolini Bussi, in collaboration with the no-profit Association with the same name.
The Laboratory has 2 different sites:
– one in the Building of the Department of Physics, Informatics and Mathematics (via Campi 213/B9),
– one in a central building of UNIMORE (via Camatta 15).
In the former you can see about one hundred of curve drawing devices and instruments for geometrical transformation. In the latter you can see a beautiful exhibition of working models of instruments for perspective drawing — many reconstructed from the Renaissance period.
——————————————————————————————
For further information write to:
Michela Maschietto: michela.maschietto@unimore.it
Mariolina Bartolini Bussi: bartolini@unimore.it
This post is also available in: Arabic